Deck Painting Services Throughout The Greater Little Rock
When we think about summer we often fantasize about sitting on our deck and enjoying the beautiful weather. However, the deck cannot be soothing at all if it's beaten up by the weather. Long and frequent rainy days followed by days of intense heat and UV exposure worn out your deck. Over time it can also decay. So it is very important that you maintain your deck and help it always look its best. One of the ways you can maintain your deck is to paint it. It doesn't only give your deck a nice makeover, it also protects it from moisture and all the damages moisture may cause afterward.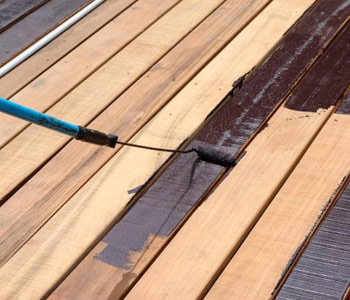 At Chenal Painting Company we offer high-quality deck painting service in Benton, Jacksonville, Little Rock, Roland, and other cities from our Arkansas service area. We are your local exterior painting contractors who follow standard procedures to make the work effective and uniform. Let it be a solid color or a more natural look of the wood, we'll help you create the perfect look you want for your deck.
Paint Your Deck in Roland With The Professionals Of Chenal
Even though painting your deck may seem like an easy job it is not as easy as it is generally assumed. Therefore, it is not always in your best interest to just do it yourself. A small mistake can make a project from improving your deck to ruining it and having to replace it all costing you a lot of money. Therefore if you are in need of a deck painting service rely on the professionals at Chenal.
At Chenal Painting, our goal is to provide the best deck painting service for your residential and/or commercial property. We complete our tasks within the estimated time with an ongoing comprehensive quality-control program to provide 100% customer satisfaction.
Why Choose Chenal Painting?
For decades we have been in the painting industry
Courteous and conscientious crews who care about you and your property.
Punctual crews who will work around your schedule and hours of operation.
Clean and respectful crews to both the environment and the workplace.
We can start your project when you are ready.
We can work after business hours and on weekends to complete the project with minimal interruptions for you or your business.
Customer Satisfaction is our #1 Priority and we get the job done right and as scheduled.
Simply call us at 501-229-8811 or contact us online for a consultation or further information about our services.