Interior, Exterior & Commercial Painting in Little Rock, Conway, & Benton
Living Room Painting Service in Little Rock, AR
A family or individual's living room is perhaps the showroom of the house. By painting the living room, the new or even revived color will turn that space into a warm and inviting area for your guests and family. It's a room where coordinating furniture and other objects into a unique space is enhanced by the paint adorning those walls. Because the living room can be a vital part of your home, it's essential to make sure the paint color complements the rest of the interior.
Chenal Painting Company provides the best living room painting services in the Greater Little Rock area, including Benton, Jacksonville, Roland, and other cities in Arkansas. For a consultation or more information, call 501-830-4050 or click here to schedule our services ASAP.
Tips for Living Room Painting by Chenal Painting Company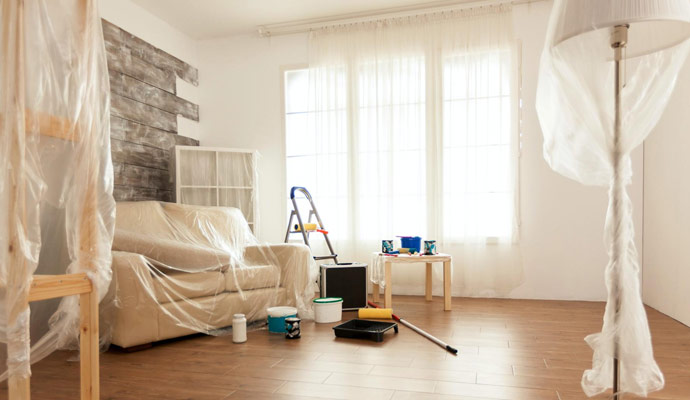 Chenal Painting Company can offer insight into selecting the best colors for spaces and personal preferences.
Warm colors appear to advance rather than retreat, so using them in wide-open spaces can make them feel more intimate.
Rather than competing with broad outside views, neutral hues complement them, allowing nature's beauty to become an intrinsic part of the living environment.
White paint on molding and trim may bring out the stunning design and craftsmanship.
Choosing wall colors that showcase the subtle nuance of furnishings, accessories, and other room decors.
A room with a northern exposure will be filled with chilly bluish light, which will delightfully increase cool tones.
Warm, yellowish light flooding a south-facing room can enhance the room's colors of green, gold, and yellow, but it can also decrease the more delicate cold blue tones.
Why Choose Chenal for Painting Services in Little Rock, Benton, & Cabot?
You can rely on Chenal Painting Company for painting your living room. Because we
Have decades of experience
Work to ensure your satisfaction
Hire courteous and conscientious workers
Arrive on time
Are clean and respectful
Can start your project when you are ready
Can work after business hours and on weekends
Locally owned and operated company
Count on Chenal Painting Company for Living Room Painting in Little Rock
We are a trusted partner when it comes to living room projects and other residential painting services. If you value quality, value, and peace of mind, schedule a free consultation right away! Call 501-830-4050 or contact us online for more information. We also provide commercial painting services.