Interior, Exterior & Commercial Painting in Little Rock, Conway, & Benton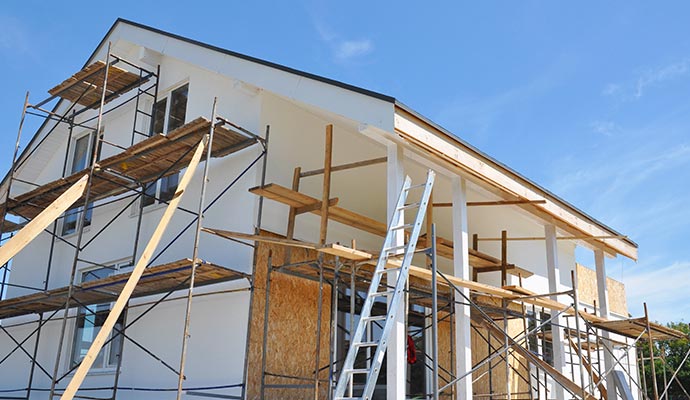 Exterior Paint Colors for a Gray Roof
Choosing the right colors for your home's exterior requires that you pick shades that complement all the other exterior elements of your home. This means you need to take into consideration the color of your doors, your windows, your siding, and your roof. If they don't mesh together, you'll have a mess. 
In choosing exterior paint colors, perhaps the biggest consideration is the color of your roof. It is much easier to re-paint window jambs and doors to match a roof than the other way around. In other words: if you have a gray roof, like most Americans, you need to find complementary colors to adorn the rest of your home. Chenal Painting can help.
What Colors Work Well With a Gray Roof?
Although some roofs are available in vibrant colors, most come in neutral shades, like black and gray. When your roof is gray, you are in luck. That means you have a more diverse color palette to choose from.
Ideally, you'll want to choose a color that will make your home look amazing. The best start is to rule out colors that can make your home look washed our or dreary, like brown, beige, or other similar muted colors.
The best colors for your gray roof? Here are some choices that you can consider:
Yellow – What better way to create contrast with a gray roof than with a bright color like yellow? Choose a yellow that is not too bright, like canary yellow or lemon yellow. Don't go for bumblebee yellow or butter yellow which can be too bright. You can also choose more mustardy shades such as Dijon, medallion, or goldenrod.
White – What can be more classic than a white exterior with a gray roof? Of course, if you use this color combination, you should use other colors as accents and avoid stark white. Focus on options like cream, eggshell, alabaster, or porcelain, all of which come with a slight tinge of color.
Brick red – This color also works well with gray, although it works better with a darker shade of gray than a lighter one. This combination gives your residence a classic, homey look. Choose brick red colors that lean more toward the darker reds and brown-reds rather than orangey or washed-out reds.
These are just some of the colors that you can choose for your exteriors when you have a gray roof. If you are unsure as to what color best works with the design of your home in Little Rock, AR, you might want to consult with an expert to get the best color combination. Chenal Painting has a roster of paint professionals who can help you pick the right color for your home. With years of experience and knowledge, we can help you pick the best exterior colors and interior colors for your residence.
To get a free consultation and estimate, simply contact us online or give us a call at 501-830-4050 so we can schedule a visit.