Interior, Exterior & Commercial Painting in Little Rock, Conway, & Benton
Cabinet Refacing in Little Rock & Jacksonville, AR
The certified experts here at Chenal Painting know wood surfaces and structures and also know how to care for them. Similarly, when your cabinets are damaged or look paler than the original, we have the resources to make them look amazing again.
Moreover, if you are remodeling your kitchen you might want to change the appearance of your cabinets too. Chenal Painting can help you achieve a completely new impression without having to replace the cabinets. When you want to match the cabinets with the kitchen theme, or simply want a fresher look for your cabinates, count on Chenal Painting for cabinet refacing services. We are serving Little Rock, Jacksonville, Scott, Bryant, & other nearby areas in Arkansas. Simply call us at 501-830-4050 for a FREE ESTIMATE for the project.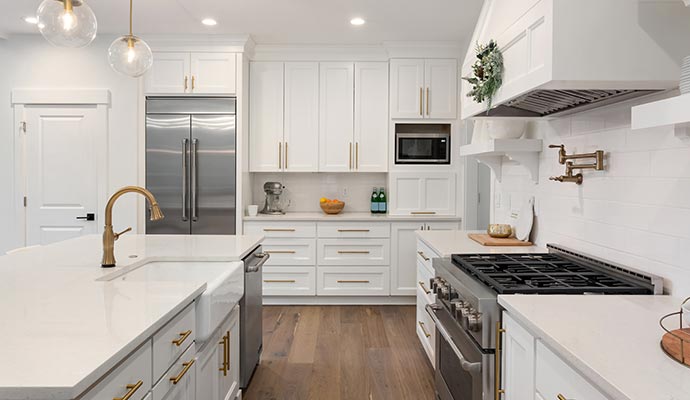 Refacing is Cheaper Than Replacing Cabinets
Are you replacing your cabinets due to remodeling purposes or damages? Did you know there is a cost-effective alternative? Yes, Chenal Painting offers cabinet refacing that costs about 30% to 50% less than the cost of replacing cabinets for an entire kitchen. Refacing may also cut down installation costs for new cabinets.
Cabinet refacing is essentially replacing the "skins" of the cabinet to give it a new face. Together with other minor repairs, you may extend the lifespan of your kitchen cabinets. Professionally applied veneers for cabinets can last for 15 to 20 years on average.
This not only applies to kitchens but also for:
Cabinet Refacing for Your Kitchen & Home
Chenal Painting has the equipment, tools, & expertise to reface cabinets in all areas of your home including kitchens, garages, bathrooms, and more. We understand how wood works and can take proper care of your wooden cabinets. Additional services we provide across Central Arkansas include:
We offer cabinet refacing services that can greatly improve or change how your cabinets look. Give Chenal Painting a call at 501-830-4050 or click here for dependable cabinet refacing services from the experts.