Interior, Exterior & Commercial Painting in Little Rock, Conway, & Benton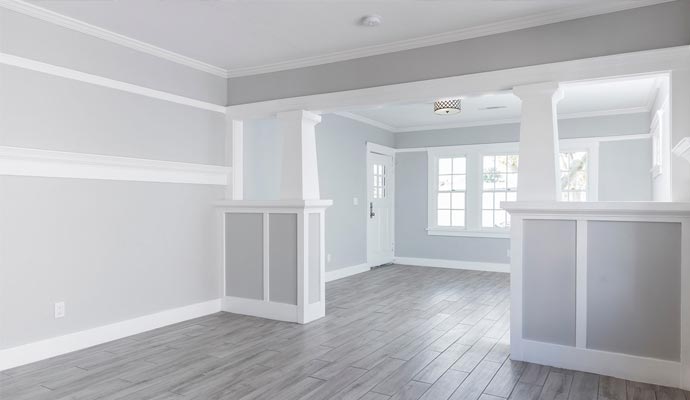 How Often Should You Paint Your Interior?
Repainting your home interiors can be an enormous task, especially if you want multiple rooms done at the same time. It is time-consuming and can disrupt your family's daily routine. Given how tough it is to do a full interior repainting, how often should you really be doing it?
There are several factors to consider, including wear-and-tear and how the rooms are used. Certain areas that don't see a lot of foot traffic can probably get away with minor touch-ups, but places with high visibility require repainting at a more frequent rate. Depending on your design choices, you may want to update certain rooms more often than others.
Dining and Living Room Painting
If you do a lot of entertaining, living rooms and dining rooms typically have the highest amount of visibility. You will want to repaint every couple of years, and possibly more often, to keep the rooms clean and pristine for your next event. If not, you can get away without painting for 5 to 7 years if your formal dining room is not heavily used.
Kitchen Painting
Kitchens tend to be incredibly busy and often see a lot of foot traffic. Kitchens also face the most amount of wear and tear as heat collects while cooking and impacts the paint job. In addition, spills, splatters, and spots inevitably result from cooking and must be recovered with paint on occasion. Even when using the most durable paints, kitchens typically are repainted every 3-4 years to keep them looking clean and bright.
Bedroom Painting
For an adult bedroom, you can get away with letting the paint stay for 5 years or more. Most adults don't spend much time in their bedrooms and, as a result, they don't see a lot of traffic—though you may want to update the look to keep up with current trends.
Children's bedrooms, on the other hand, are a whole different matter. Young children tend to use any blank wall as a canvas. Because of this, the walls of their bedrooms often contain drawings and doodles. Not to mention, children's activity levels tend to be higher. This means they make more contact with the paint on those walls. Go with a durable finish and repaint the bedroom every 3-4 years until the kids are grown.
Bathroom Painting
Moisture and humidity are prime enemies of paint, and both conditions exist in the bathroom. This can have a detrimental effect on your paint's longevity. Just like in the children's rooms, your bathroom will need a fresh coat of paint every 3 to 4 years to prevent paint from bubbling and cracking unattractively.
Contact Chenal Painting Company for Interior Painting
Painting the interior and exterior of your home is a big project, one that requires assistance from an experienced painting company like Chenal Painting. At Chenal Painting, we have been painting homes and businesses in central Arkansas areas for many years, so we have the experience needed to bring your artistic vision to life.
Our company can take care of interior painting and exterior painting for both residential and commercial properties in Arkansas. For a final look that you will love and painting services that you can trust, call Chenal Painting at 501-830-4050 or leave a message on our contact us page.