Interior, Exterior & Commercial Painting in Little Rock, Conway, & Benton
Reasons to Repaint Your Business Exterior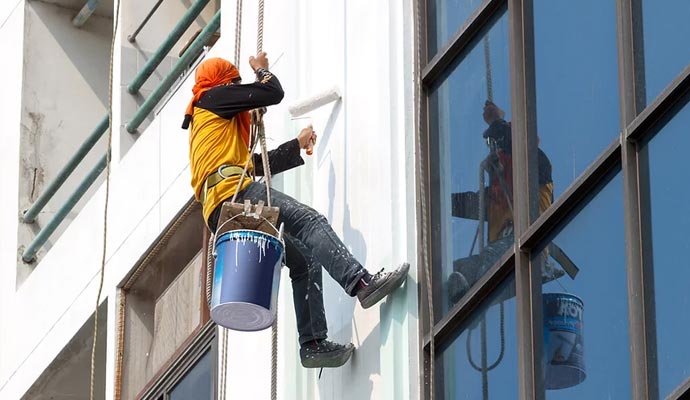 Looks aren't everything, but appearances certainly make a b impression. That is definitely the case with a commercial building and its exterior façade.
First-time visitors often make an immediate judgment of a business based on the visual features, architecture, and tidiness of the building. When your office leaves a positive first impression in the minds of guests, you stand to gain more conversions, higher employee engagement, and a spike in your property's value.
You'll be surprised at the difference a fresh coat of paint makes in this process. Here are just a few reasons why an exterior paint job can help your business, and why you'll want to complete one with Chenal Painting very soon!
Match your business's branding. Painting your building's exterior to match your brand colors will increase your brand's visibility from the outside. Mix and match colors according to the values you want your business to convey, from down-to-earth beige to sleek, professional-looking dark blue. The sky is the limit!
Entice new customers to come inside. A new paint job makes the exteriors look fresher and more exciting. That will attract curious customers. Work with a contractor like Chenal Painting to determine the right color combo & texture to make customers feel at home.
Boost your employees' morale. Customers aren't the only people who'll be affected by the makeover. A new paint job benefits your employees, too. If the outside of the workplace looks more presentable, it can boost morale. They'll be prouder of working in the business, and they'll be more motivated to give their best.
Increase the property's value. If you foresee selling your property in the near future, a paint job is a good way to refurbish it. A well-painted and neat exterior also shows investors that you were careful in maintaining the property. Because of that, you'll be able to command a higher price for it.
Commercial Painting Services by Chenal Painting
Seeking to boost the curb appeal and property value of your commercial building? A new paint job will be a simple, yet worthwhile investment.
Chenal Painting ensures a beautiful, functional paint job for your commercial property. We are a family-owned company that offers various painting services in the Central Arkansas area. If you want quality, value for the investment, and partnership to improve your business prospects, we are your go-to painters in Central Arkansas. If you have questions or want a free consultation, visit our Contact Us page or give us a call us at 501-830-4050. Contact us today for your commercial painting needs!