Interior, Exterior & Commercial Painting in Little Rock, Conway, & Benton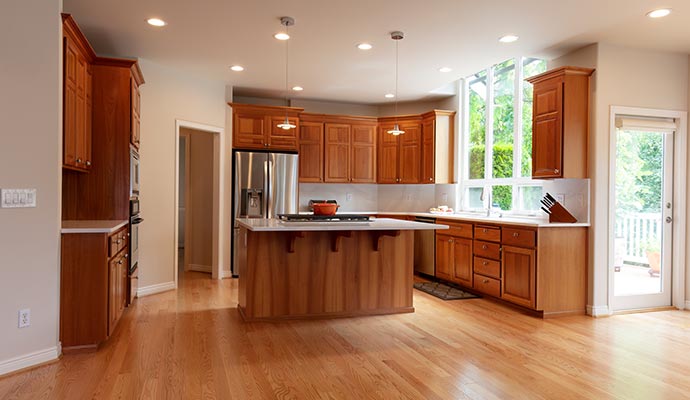 Should You Replace or Refinish Cabinets?
Renovating your kitchen can be expensive. From replacing your countertops to buying new appliances to adding new features, you can easily spend thousands of dollars. Finding ways to update your kitchen without breaking the bank is possible if you seek areas where you can save and get still that fresh look for your kitchen.
A great place to start is with your existing kitchen cabinets. Should you replace them with new ones or refinish them instead? You can also choose to resurface these cabinets if you prefer.
When to Replace, Refinish, or Resurface Cabinets
The options you have for upgrading kitchen cabinets include replacing, refinishing, and resurfacing. Your best choice depends on the condition your existing cabinets. To help you determine which one you should choose when you are renovating your kitchen, here is a short primer on each procedure:
Replacing cabinets – This is the most costly of the three options, and with good reason. It is labor-intensive to remove the old cabinetry of your kitchen and put in a new set of cabinets. This option should be used only when your cabinets are beyond repair or you want to change the configuration of the cabinetry in your kitchen.
Refinishing cabinets – This is the most economical option. It involves stripping your old cabinets of its paint or wood stain and applying fresh paint or stain and varnish in its place.
Resurfacing cabinets – When you choose to resurface your cabinets, you are basically reusing the cabinet boxes but replacing the doors, drawers, handles, and finish. This is done when you want to change how your cabinets look but still want to reuse the existing structure. This is the choice homeowners make when their existing cabinets are still functional but they want a new look.
Another option you can choose when remodeling your kitchen is to reface the cabinets. Refacing is similar to resurfacing but is a term that is used by professional remodelers when only the front parts of your cabinets (i.e. the doors and drawers) are replaced.
Chenal Painting Can Help You With Your Refinishing Needs
If your cabinets are still in good shape and don't need replacing, then refinishing is the choice for you. In Central Arkansas, the company to call for this task is Chenal Painting. We specialize in all types of painting and refinishing jobs, and this includes cabinet refinishing, exterior painting, interior painting, and even commercial painting.
Contact us today at 501-830-4050 to find out what we can do for you and your home. Our friendly operators are standing by to schedule your appointment or answer your questions.