Interior, Exterior & Commercial Painting in Little Rock, Conway, & Benton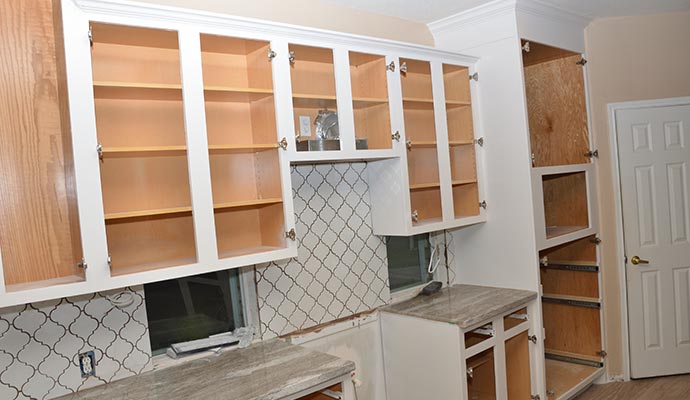 Signs of Unprofessional Cabinet Refinishing
Picture this scenario. You finally purchased that refinished cabinet you've always wanted, but the workmanship was not as pristine and professional as you expected when it was delivered.
How can you tell if a piece of furniture was finished by someone who is not trained to professionally paint or refinish furniture? What do you do when you discover a piece of furniture you've already purchased was refinished by someone who should not be performing such a task?
Telltale Signs of a Poor Refinishing Job
Before you buy second-hand furniture, it is a good idea to check the item personally before you make your purchase. If you cannot check out the merchandise in person, try to ask the seller for clear pictures of the item from multiple angles.
You can also try to ask them questions regarding the finish of the item and who did the work. When checking out second-hand furniture, here are some indicators of an unprofessional refinishing job:
Inconsistent color due to over-stripping of the wood
Stains and odd patches of color due to under-stripping
Gouges and scratches caused by poor stripping of finishes or paint
Damage to decorative elements and molding
Dirt, sawdust, and grime under the finish
Discoloration in spots where too much solvent was used
Uneven finish due to improper work done to the piece
When you point out the flaws in the refinishing work, you should be able to request a lower price on the item. Later, you can have it redone the right way.
Contact a Professional for Help
The benefits of having furniture refinished by a professional include:
Preserves the integrity of the item
Beautifies it beyond reproach
Prolongs the lifespan of the item
Increases is overall value
Restores its original look
When you need to have a cabinet or other piece of furniture refinished, you should definitely contact a professional for help. In Central Arkansas, the company to contact for this is Chenal Painting. We can help you with all your painting and repainting needs. In addition to furniture repainting and refinishing, we can also help with interior painting, exterior painting, and popcorn ceiling removal. We also perform commercial painting jobs.
To find out more about what we can do for you and to get the help you need for your cabinet refinishing woes, simply contact us online or give us a call at 501-830-4050 and we will send someone over to provide an estimate.