Interior, Exterior & Commercial Painting in Little Rock, Conway, & Benton

Kitchen Cabinet Refinishing & Painting in Greater Little Rock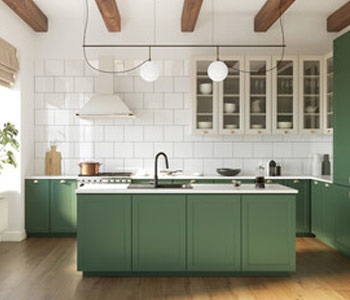 Are you getting tired of the way your kitchen cabinet looks or are you thinking about remodeling your kitchen? Kitchen remodeling projects can be quite expensive and consume more time than expected. On the contrary, if you choose cabinet painting and refinishing, it is a great alternative way to give your kitchen a new makeover without all the hassle that comes with complete remodeling. Cabinet refinishing and painting is much faster than demolishing old cabinets and installing new ones, more affordable, and it is an eco-friendly option.
If you are considering kitchen cabinet refinishing or painting and looking for the best contractor in the Greater Little Rock, Arkansas areas, Chenal Painting is the name to trust. We'll help you create the perfect look you want for your built-in cabinets in Benton, Jacksonville, Little Rock, Roland, and surrounding areas in our Arkansas service area. We are your local painting contractors who follow standard procedures to make the work effective and uniform.
Give Your Kitchen Cabinet A New Makeover With Chenal Painting in Conway and Benton
At Chenal Painting, our goal is to provide the best kitchen painting service for your residential and/or commercial property. We complete our tasks within the estimated time with an ongoing comprehensive quality-control program to provide 100% customer satisfaction.
Choosing Chenal Painting for your cabinet painting and cabinet refinishing project is the way to go. We have a long list of verified reasons why Chenal Painting is the best in the business, some of the reasons why are:
We have worked in the painting sector for a very long time.
Teams with a sense of courtesy and responsibility for you and your property.
Teams that are on time and flexible with your schedule and operating hours.
teams that are tidy and considerate of the surroundings and the workplace.
We can start your project promptly after you are ready.
We can finish the project with minimum disruptions to you or your company by working on weekends and beyond regular business hours.
Customer Satisfaction is our top concern and we get the job done precisely and on the targeted schedule.
Contact us at Chenal Painting by giving us a call at 501-830-4050 or contact us online for a consultation for your cabinet refinishing and cabinet painting or other interior and exterior painting services in Arkansas.