Interior, Exterior & Commercial Painting in Little Rock, Conway, & Benton
Bathroom Painting in Little Rock & Conway, AR
Is your bathroom looking tired, worn or outdated? A fresh coat of paint will make that bathroom space like new and transform its appearance. Make your master or guest bathroom more appealing and welcoming. Years of moisture and use take a toll on bathrooms, so trust Chenal Painting Company for bathroom painting and moisture protection. Fix that bathroom paint wear and tear today.
Overlooking that peeling paint or old wallpaper can lead to undetected mold damage, mold remediation and costly repairs. Chenal Painting Company provides superior quality bathroom painting in Greater Little Rock, including Benton, Jacksonville, Roland, and other cities throughout our AR service area. To learn more and arrange a consultation, call 501-830-4050 or contact us online.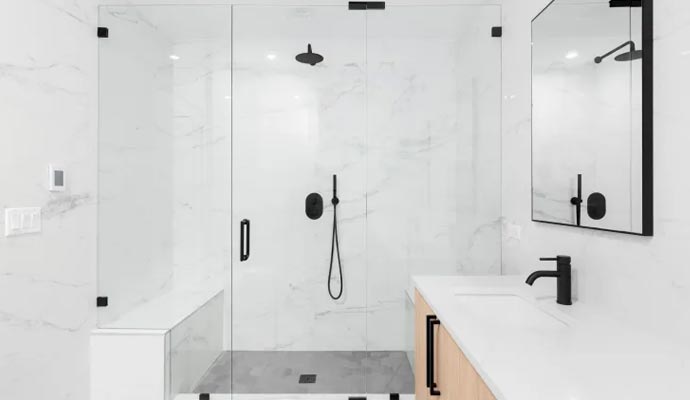 Chenal Has Bathroom Color Tips in Benton, AR
Painting any size bathroom is an excellent way to improve its overall appearance. Choose a color or colors that suit your design needs, tastes, details, or overall vision. Chenal Painting is happy to consult on any color or design ideas for your bathroom painting to ensure best results and your complete satisfaction.
Chenal Painting consultants can answer questions, make suggestions, show you your color and design options, and paint pricing. Our priority is to provide you the best possible color consultation for your bathroom.
We'll begin and complete your bathroom painting project within the allotted time, updating you the entire way and making any alterations that you need performed. Our quality control guarantees your bathroom painting will look its best.
Trust Chenal For Best Bathroom Painting in Bryant, AR
Chenal Painting Company will give your bathroom the like-new appearance you have always desired. Our additional services include commercial painting, residential painting, interior painting, exterior painting, and more. Call us at 501-830-4050 or contact us online for assistance in Little Rock, Jacksonville, Sherwood, Conway, Benton, and more cities throughout our AR service area.