Interior, Exterior & Commercial Painting in Little Rock, Conway, & Benton
Your Top Pressure Washing Service in Little Rock & Benton
If you are in need of removing loose paint, dust, mud, mold, grime, or dirt from your home's surfaces, pressure washing is solution that restores luster. At Chenal Painting Company, we provide the best pressure washing service in Greater Little Rock, including Benton, Jacksonville, Roland, and other cities from our Arkansas service area. Call us at 501-830-4050 or contact us online for a consultation or further information about our services.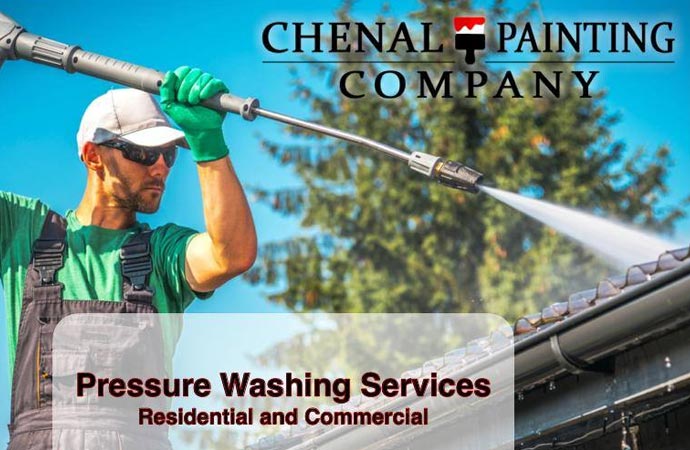 Professional Pressure Washing by Chenal Painting vs. Do-It-Yourself
Doing your own pressure washing, as opposed to using a professional, isn't advisable. It can be costly, frustrating, and time-consuming, especially when you buy or rent a washing machine. Renting involves transport, perhaps waiting in line, machine prep, cleaning, refueling and returning machines on deadline. Instead, contact Chenal Painting, and let us do the work and heavy lifting. We have the skill, equipment and patience for best pressure washing service your home deserves.
Chenal Painting Is Tops For Pressure Washing Service in Benton & Roland
At Chenal Painting, our goal is to provide the best pressure washing service for your home. We complete our tasks witRenhin the estimated time with an ongoing comprehensive quality-control program to provide 100% customer satisfaction. We also offer interior and exterior painting services for your residential property with premium quality paints.
Choose Chenal For The Best Pressure Washing Service in Little Rock & Benton, AR
For decades we have been in the painting industry.
Courteous and conscientious crews who care about you and your property.
Punctual crews who will work around your schedule and hours of operation.
Clean and respectful crews to both the environment and the workplace.
We can start your project when you are ready.
We can work after business hours and on weekends to complete the project with minimal interruptions for you or your business.
Customer satisfaction is our #1 Priority and we get the job done right and as scheduled.
Call Chenal Painting at 501-830-4050 or contact us online for a consultation or further information about our services.