Interior, Exterior & Commercial Painting in Little Rock, Conway, & Benton
Wood and Vinyl Shutters Painting Services in Little Rock
Painting your shutters might seem like a frivolous matter, but by doing so, you are actually improving the exterior aesthetics of your home and preserving the life of your shutters. Colorful and updated shutters makes your home look complete, well-kept, and held together. We at Chenal Painting, would suggest that you should think twice about painting these areas by yourselves and leave it to the experts.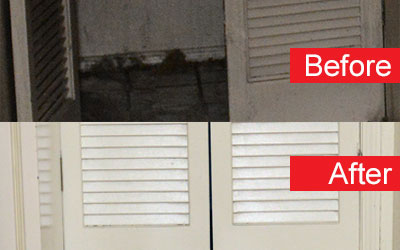 Painting Your Shutters the Professional Way
Although your shutters are big "canvases" for you to paint, without the proper technique, the result of your paint job might not be quite what you imagined. The painting process needs to be done by a delicate and professional hand. Without the proper tools and equipment to handle the job, your shutters might not be the only thing you are painting. It's easy to inadvertently stain your walls, windows, and yard. Cleaning the mess up while waiting for the paint to dry is time consuming, tedious, and can be difficult to remove.
That is why we, at Chenal Painting, are just the muscle you need to have your wood and vinyl shutters painted the professional way. With our experts handling the task, your shutters will look fresh and new, and you will not have to lift a finger or worry about the mess.
Call us if you need an interior house painter in Little Rock!
Give us a call at: 501-830-4050 today or visit our contact site here for further questions and inquiries. We also offer various painting services for both the exterior and interior areas of properties situated in the surrounding areas of Little Rock, AR.