Interior, Exterior & Commercial Painting in Little Rock, Conway, & Benton
Outdoor Shelter Painting in Little Rock & Conway, AR
An outdoor shelter, often called a gazebo, is a gathering area that shields people from the sun or rain and is great for backyard parties or corporate events. With a solid roof and open sides that can be screened in, the shelter can be painted to match your home or office and will require regular outdoor shelter painting services to keep it looking its best on a 24/7/365 basis.
Whether you are taking an afternoon coffee break, having snacks by the pool, or seeking a more casual setting for a business meeting at the office, our crews at Chenal Painting have more than 25 years of experience serving both homeowners and business owners with our top-notch exterior painting services in Cabot, Jacksonville, Bryant, and other Arkansas cities within our service area. We believe in delivering 100% customer satisfaction and also provide services for interior painting, commercial painting, pressure washing, and more. To learn more, dial 501-830-4050 or click here to schedule services online.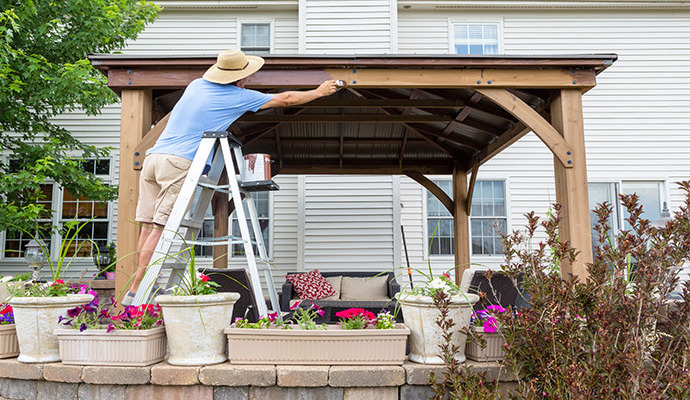 Benefits of Outdoor Shelter Painting with Chenal in Cabot
The benefits of having us paint your outdoor shelter include:
It safeguards the structure from rain, snow, sleet, & more. 
It extends the life cycle of the structure.
It gives your house or property a dynamic look.
It boosts your curb appeal and property value.
Our family-owned company also provides stucco repair, and painting for porches, doors & windows, and more. Check out customers' experiences through their reviews.
Rely on Us for Outdoor Shelter Painting in Benton & Little Rock
Don't delay spending lots of sunny days in a nice outdoor setting with family and friends or setting a relaxed tone while working on an important business deal. Call us today at 501-830-4050 or click here to let our proven professionals at Chenal Painting upgrade your outdoor shelter. We offer a free estimate and also provide superior services for interior painting, commercial painting, pressure washing, and more.