Interior, Exterior & Commercial Painting in Little Rock, Conway, & Benton
Deck Painting in Greater Little Rock
When we think about summer we often fantasize about sitting out on the deck and enjoying the beautiful weather. However, the deck won't provide a peaceful and enjoyable environment if it's been worn down by the weather elements that have caused the deck to look lackluster. Days with lengthy and frequent rain, then days with hot weather and Harmful UV rays will do just that. Over time it can also decay. So it is very important that you maintain your deck and help it look its best. One of the ways you can maintain your deck is to have it painted. Deck painting will give you a quick and simple makeover, while also protecting it from moisture and all the damages it may cause.
At Chenal Painting Company, we provide professional deck painting services in the cities of Jacksonville, Benton, Roland, Little Rock, and other cities in our Arkansas service area. We are your neighborhood exterior painting contractors, and we adhere to established protocols to ensure that the work is efficient and consistent. We'll work with you to design the perfect look for your deck, whether it's a dark color or one that has a more natural appearance.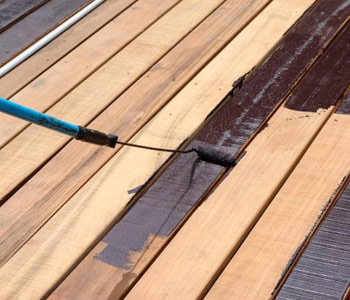 Paint Your Deck with Chenal Painting
Even though painting your deck may seem like an easy job it is not as easy as it is generally assumed. Save time and money on deck painting service you can rely on from the professionals at Chenal Painting.
We want to give your residential or business property the best deck painting service possible. With an ongoing, thorough quality-control procedure, we perform our jobs within the anticipated time frame while guaranteeing complete customer satisfaction.
Renew the Elegance of Your Deck with Our Professional Deck Painting
Years have passed since we first entered the painting business.
Offers premium service that goes above and beyond for our clients.
From surface preparation to paint application, we pay close attention to every little thing.
Pay close attention to every little thing, from surface priming to paint handling; master your painting skills.
Offers specialized solutions that fit your tastes, style, and financial constraints.
By providing great service, dependability, and trustworthiness, we hope to develop lasting connections with our clients.
Simply call us at Chenal Painting at 501-830-4050 or contact us online for a consultation for painting services in Greater Little Rock, AR and the surrounding areas.