Interior, Exterior & Commercial Painting in Little Rock, Conway, & Benton
Paneling & Wainscoting Painting in Little Rock & Benton, AR
Paneling and wainscoting are frequently painted to improve their appearance, shield the wood from water damage, and coordinate with the rest of the decor in a room. Over time, your home's paneling or wainscoting can break down and have many scratches. Painting can help hide these scratches and make the surface smoother.
For more than 25 years, Chenal Painting provides the best paneling and wainscoting painting services for residential clients all around Little Rock, Bryant, Benton, Cabot, and other AR areas. Using high-quality and eco-friendly paint we serve our clients with the finest possible service. Whenever you need our assistance with any interior painting, simply dial 501-830-4050 or click here for more information.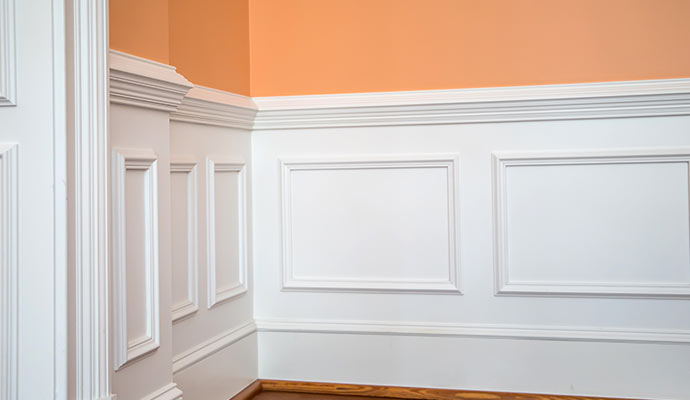 Benefits of Paneling & Wainscoting Painting by Chenal
Painting paneling & wainscoting enhance the visual appeal of a room. Some benefits of our painting service are as follows:
Hides Flaws: We paint worn and faded wood and wainscoting to update the look of the room and hide flaws like scratches and dents.
Safeguards wood: By sealing the wood with paint, we prevent damage from water and other elements and prolong the life of your paneling and wainscoting.
Simple to Clean: Unlike untreated wood, our painted paneling and wainscoting are easy to clean.
Enhances Curb Appeal: Our painted paneling and wainscoting can dramatically change the look of a space. Our chosen paint color and style can make your room feel more inviting, cozy, and elegant.
Upgrade the Paneling & Wainscoting of Your Home With Chenal Painting
Chenal Painting strives to make your interior space as aesthetically pleasing as possible. Our mission is to ensure that you are satisfied and pleased with the ultimate result.
We provide free estimates to our clients and recommend the best painting to suit their needs. We also help our clients with exterior painting, residential painting, commercial painting, cabinet refinishing, and more. For more information about our services, please contact us at 501-830-4050.