Interior, Exterior & Commercial Painting in Little Rock, Conway, & Benton
Pool Deck Staining & Epoxy Coating in Little Rock & Benton
Pool deck staining and epoxy covering are two popular methods of reviving your pool deck. It can protect your pool deck from becoming faded, sun damage, and more. We at Chenal Painting Company offer pool deck staining and epoxy coating services to meet your needs and budget. Our team of experienced professionals can apply the stain or epoxy coating quickly and efficiently. Call us now at 501-830-4050 if you are a homeowner in Conway, Hot Springs, Jacksonville, and and surrounding areas.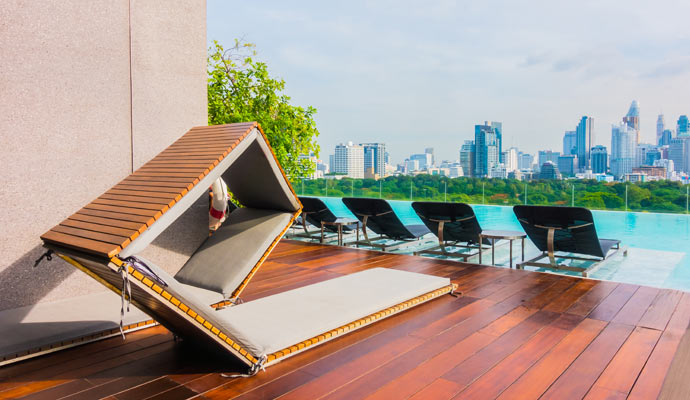 Benefits of Pool Deck Staining & Epoxy Covering
Gives a new, fresh look: By staining or coating it with epoxy, you can give your deck a brand-new appearance. 
Protect against the elements: Epoxy coating and staining can protect your deck from chlorine and other chemicals, as well as the sun. This will help extend the life span of your deck and save you money in the long run.
Safer with epoxy coating: Epoxy can be used to create a nonslip surface that makes your pool deck safer for you and your guests.
Increase the value: A pool deck that is well maintained can increase your home's value.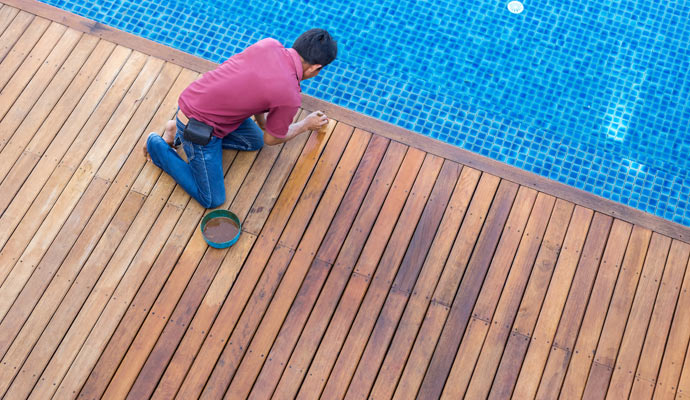 How Long Does Pool Deck Staining or Epoxy Coating Last?
So, you might be wondering how long your pool deck staining or epoxy coating will last, right? Well, it really depends on a few factors. When it comes to staining, you can expect it to last anywhere from 2 to 5 years if it's done well and you take good care of it. But, here's the catch: you'll need to do some regular maintenance to keep it looking good.
Now, if you opt for epoxy coating, you're in for something more long-lasting. When properly applied and maintained, epoxy coatings can hang in there for a decade or even longer. 
Revive Your Pool Deck with Chenal Painting Company
Our concrete staining and epoxy covering services are your key to a beautiful, durable, and low-maintenance pool deck, garage floor, patio, and more. We are a licensed and insured company serving the Little Rock & Benton areas as a trusted partner. Contact us today at 501-830-4050 for a free consultation. To know more about us or our services, contact us online.